| | | | |
| --- | --- | --- | --- |
| Event Details | Duration | Venue | Participants |
| Industrial Visit conducted by Shree L R Tiwari College of Engineering for Second year & Third year students of Computer, IT, EXTE, ETRX, Civil & Mechanical department. | 12th January to 22th January, 2020 | Chandigarh-Kullu-Manali-Kasol-Dalhousie-Khajjar-Amritsar | Principal, Faculties, Staff, Students |
Objectives:
The IV was organized to help students in developing them as competent professional with a sense of responsibility and social sensitivity. IV has imparted professional education using active learning techniques to transform the students to be competent and committed engineers meeting the current and future demands.
Staff Involved:

Dr. S. Ram Reddy – Principal
Mr. Pravin Jangid- Faculty in charge
Organizing Core Committee
Sr.No.
Name of Faculty/ staff/ Students
Committee
Responsibilities
1
Mr. Pravin Jangid
Overall Coordinator

Interaction with Industry for permission to visit.
Timely reporting to Principal about the Activities.

2
Mr. Aditya Desai
SLRTCE Faculty incharge

To coordinate with tour operating committee and student core committee for smooth conduction of the program.

3
Mr. AbhijIt Samanta
Coordinator

Taking round daily
Ensuring student reaches on time in bus

4
Ms. Shweta Chawhan
Coordinator

Handling girls during the entire IV.

5
Mr. Sunny Sall
Coordinator

Verification and Cross checking of Industry visit itinerary.

6
Pankaj Jadhav
Coordinator

To give the Memento and thanks letter to the respective industry.
Updating the students about next day plan Head count before leaving the hotel and after sight-seeing.

7

Mr. Abhishek Chaudhary
Ms. Sneha Mishra
Mr. Dhairya Gandhi
Mr. Raj Singh

Student coordinator

To manage all communication between department and Students.
Collection of funds
Managing the crowd on day of industrial visit
Planning
On August 18th, Principal took meeting all Faculty in charge of all department in Faculty reading regarding industrial. Mr. Pravin Jangid AP, CMPN was allocated duty of getting tour operator.
On August 27th Comparative was given to Principal Sir, on basis of which Khushi Holiday Pvt ltd was chosen each was divided 4 industrial visit.
On October 4th planning draft was forwarded by Mr. Pravin Jangid for approval of industrial on basis of which Money collection and other process were started.
On January 2nd Principal called for a meeting of all the 7 Core committee along with the respective faculty accompanying the students to IV.
Dr. S. Ram Reddy reminded every faculty members and students about collecting the thanks letter and mometo from college.
He told that the students must follow the rules and regulations of the visitng industry in formals.
Faculty member was asked to update Mr. Pravin Jangid or Principal Sir about the progress
Conduct:
Participant's details
| | |
| --- | --- |
| Designation | No of members |
| First Year Students | 25 |
| Second Year Students | 29 |
| Third Year Students | 66 |
| Faculty | 06 |
| Total | 126 |
THE BACKGROUND
During the month of July, our faculty in-charge Prof. Pravin Jangid informed us that we have to conduct an Industrial Visit during the semester breaks so that students can get an opportunity to learn about the organizations, system and performance. To have some live and practical knowledge about process and production in the industries. Accordingly, with the guidance of, our principal Dr. S. Ram Reddy, our faculty in-charge Prof. Pravin Jangid and feedback from the faculties of SLRTCE, we finalized a 9-day industrial visit tour to Chandigarh-Kullu-Manali-Kasol-Dalhousie-Khajjar-Amritsar. The tour details were handled by the core committee of SLRTCE and accordingly 120 students registered to take part in the 9-day tour. The tour was finalized from the dates 12th January to 22th January, 2020. The total tour cost (inclusive of all taxes) came to Rs. 12,500/- per student.
Sr.No.
Date
Description
Day 1
12th January 2020

The Industrial Visit commenced on 12th January 2018. All the students as well as the faculty members along with the tour guides assembled at Vasai Junction Railway Station on 12th January at 11:15 am. The train Sampark Kranti Express arrived at 12.55 p.m. at Vasai Junction Terminus Railway station and Departed according to the train schedule at 1:15 p.m.
The first half of day and evening was spent in the train. The students were provided with snacks, lunch during the journey.

Day 2
13th January 2020

We arrived at Chandigarh Station at 4:00 p.m. and then headed to hotels which was 6-hour bus journey from Chandigarh station.Overnight in bus to reach Manali.

Day 3
14th January, 2020

We checked into hotel at 2:00 pm .After getting freshen up all the students and the faculty members along with the tour guides headed for River Rafting.
Dinner and overnight stay at the hotel.

Day 4
15th January 2020

After early breakfast, we left for Snow point area followed by shopping at Mall road.
Also enjoyed spectacular sightseeing at Hadimba- Devi Temple
Visited Kullu Shawl Factory
After dinner we had DJ night, overnight stay at hotel.

Day 5
16th January 2020

In the morning with early check-out we left for Kasol.
We reached Hotel Sandhya and after check-in and rest for an hour we left for our next Sight Manikaran Gurudwara & Hot Water Spring.
Overnight at Kasol.

Day 6
17th January 2020
Early departure for jungle safari.
Day 7
18th January 2020
On 7th day of our IV, Morning we had breakfast and after that we went to visit Khajjiar. Also visited Rock Garden. Afternoon spent in Khajjiar.Left for Amritsar and Reached hotel at night, had dinner. Overnight in hotel.
Day 8
19th January 2020

Day began with breakfast followed and then all the students and the faculty member along with the tour guides headed to Golden Temple & Jalian Wala Baug.
Visited Verka Milk Plant at Amritsar.
Thereafter proceeded to Wagah Border at 3 pm to see Indian Pakistan & Indian Parade
Snacks were provided in Evening we proceeded for Chandigarh Railway Station.

Day 9
22th January 2018

Train arrived at Mumbai Central Station at 6:00 a.m. on 22th January 2020.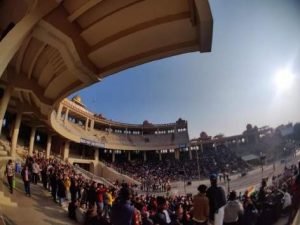 | | | | | |
| --- | --- | --- | --- | --- |
| Sr.No. | Strength | Weakness | Opportunity | Threats |
| 1 | Arranged the industrial visit successfully.Shows leadership and decision making Qualities of students as they have to manage on their own without family pampering. | As the students were in large number, it is difficult to manage students on time | The knowledge gained can be used to understand processes thoroughly. | Name of industries were not disclosed prior. |
| 2 | Team work of faculty and core committee. Improves the on spot decision making at some instantaneous situations. | As student being on their fun Trip , getting them out from certain places becomes difficult | IV has given a new direction to the way of thinking to the students | Expectations were high of third year students due to previous IV |
| 3 | Effective communication between the students and faculty and among students too. | If any last minute change in itinerary or schedule due to environmental changes affects the connecting schedules | Students can now visualize the equipment's which will be encountered during the academics | Environmental or climatic changes cannot be predicted |
| 4 | Effective follow up was done by faculty, coordinators and HoDs for more participation | Some cancellation and additions of student at last moments changes the schedule. | Quality interaction between student and industrial executive. | Some time Students behave unmannered in industries. |
Learning
Planned learning during the Industrial Visit
SLRTCE Students' Chapter organized the industrial visit with an intention to provide students an edge of industrial environment and its proceeding. Following are some of the core principles and knowledge which was intended to impart into the participating students:
Fraternity: Students of different branches were taken together and were managing things together thus developing social qualities. They had their own beliefs, intelligence, faith and even religions. With lots of diversity in their thinking and ideas all the students enjoyed at same place by doing same thing. Students made new friends from different department thus breaking the ice between departmental
Industrial Procedures: Visiting industries of different sectors, different in operation, product, vision, mission etc. gave students the knowledge of corporate world.
Improved way of learning: Students learned industrial mass production and the advanced technologies involved in it apart from their syllabus and prescribed practical during their academic curriculum, this industrial visit made them think in other way
Outcome
Students build many qualities in them after the Industrial Visit
Friendship and feel of belonging: As the students were staying together throughout the trip they developed a sense of unity and compatibility amongst them.
Practical Knowledge: Students witnessed the industrial conditions of the place where they might work in They got to know how an industry works and what all things they need to be prepared when they enter in corporate world.
New edge to learning: The students during their academics hardly get time to explode beyond their syllabus but due to an exposer of such IVs they developed a new edge in their learning process. Students started thinking that the processes and other fact that they study are much lagging with current scenario and they need to enhance their cone of learning so that they can be industry
A common platform for interaction of Student with industry experts provided fruitful interactions, inputs were provided by Company person regarding insight of industrial world.
Conclusion:
| | | |
| --- | --- | --- |
| Sr. No. | Session | Outcome |
| 1 | Finalization of Tour operator | Tour operator was finalized by Principal on basis of comparative submitted |
| 2 | Collection of instalment | Instalment was collected on basis of schedule displayed to student |
| 3 | Briefing | Briefing was done to all student on 31st December, 2017 and AICTE and college guideline was given to students |
| 5 | Industrial visit | Industry was shown to student which has fruitful interaction between company person and student and had insight about industry world |
| 6 | Final instalment | Final instalment was given after tour got over |
Learning:
Through Industrial visit, we can provide an opportunity to current students to interact with person to know work culture in industry.
Students know the techniques, skills, and modern engineering tools necessary for engineering practice
Students uses the techniques, skills, and modern engineering tools necessary for engineering practice
Student can get idea in industry environment which can use in R&D and E cell
Scope for Improvement:
With changing trends and NBA requirement, such visit should be arranging for more number os students which can show overall development of students
Industrial visit can be brought into the system through ISO & its implementation at department/section levels with the opportunities for corrective & preventive actions.
Continuous communication system needs to be developed to make industrial visit a huge success
Industry should be communicated through T&P to have better communication and timely confirmation
Testimonials
| | |
| --- | --- |
| A girl who is enjoying with her friends, making new friends, dancing, laughing till her stomach hurt. From train travels to hotels to unstoppable midnight chit-chats then from bus travels to talking about horror stories to playing games to eating street foods and traveling new beautiful places every moment was special. The day we reached back home we started thinking about planning another trip. We enjoyed it so much and had fun that we started missing those unforgettable days as soon as we reached home. We brought back memories that we will cherish for life. | Disha Parik (TE-CE) |
| Where we are exposed to workers who worked as professional and showed us the meaning of what a professional can do and since the IV was setup after our semester exam we got some time to relax and we really appreciate all the setup done by our college for the hotels and all the en-route and routine was managed very well and we enjoyed it a lot. I was so happy as the IV was totally worth the money and time and I will surely attend the next IV as well. | Tanmay Jadhav (TE-CE) |
| In all these years of my life perhaps I have never lived and loved life to the extent as this memorable trip. It has been an outstanding experience altogether where I got to know my friends and developed a charismatic affection towards them and life. All I can say is that if you all wish to explore and live life the magical way then definitely pack your bags and go on with a trip with buddies like uh. Still remember those sleepless nights and all the memories we made. | Ankush Nirala (SE – CE) |